Porcelain Veneers In Hyderabad
Porcelain Veneers In Hyderabad
Cosmetic dentistry improves your teeth and restores your smile with attractive options. With porcelain veneers put in our Hyderabad clinic by our top-rated cosmetic dentist, Dr. Anurag , you can get the smile makeover you've always wanted.

He has extensive experience with a variety of patients and specialises in porcelain veneers. Dr. Anurag expertise is sought by patients from all over the twin city area, including Hyderabad, Secunderabad and other parts of City. He uses his extensive skills to provide therapy that will improve your smile. Patients find their encounters with Dr. Anurag comfortable, and the treatments simple, thanks to his calm and steady approach.
You can learn more about porcelain veneers by browsing at our before and after photos, which show how effective this treatment can be. They give our patients the most beautiful smiles. Take advantage of our no-cost consultation offer and make an appointment with Dr. Anurag now.
Dr. Anurag does an excellent job. My front teeth required veneers. He suggested that I get six on the top so that they all match, or simply do the four fronts. He suggested only doing the four in the front. As a result, he suggested the less expensive choice. Surprisingly! He completed the work in a couple of trips and it turned out beautifully! Greetings! He also has before and after photos to back up his claims. – Google review – P.M.
What Issues Are Addressed by Porcelain Veneers?
Porcelain Veneer Process
Porcelain Veneer Benefits
Porcelain Veneers: How to Care for Them
Porcelain Veneers: How Much Do They Cost?
Porcelain Veneers are a good fit for you if you're looking for a new look.
Porcelain Veneers: Where Can I Get Them?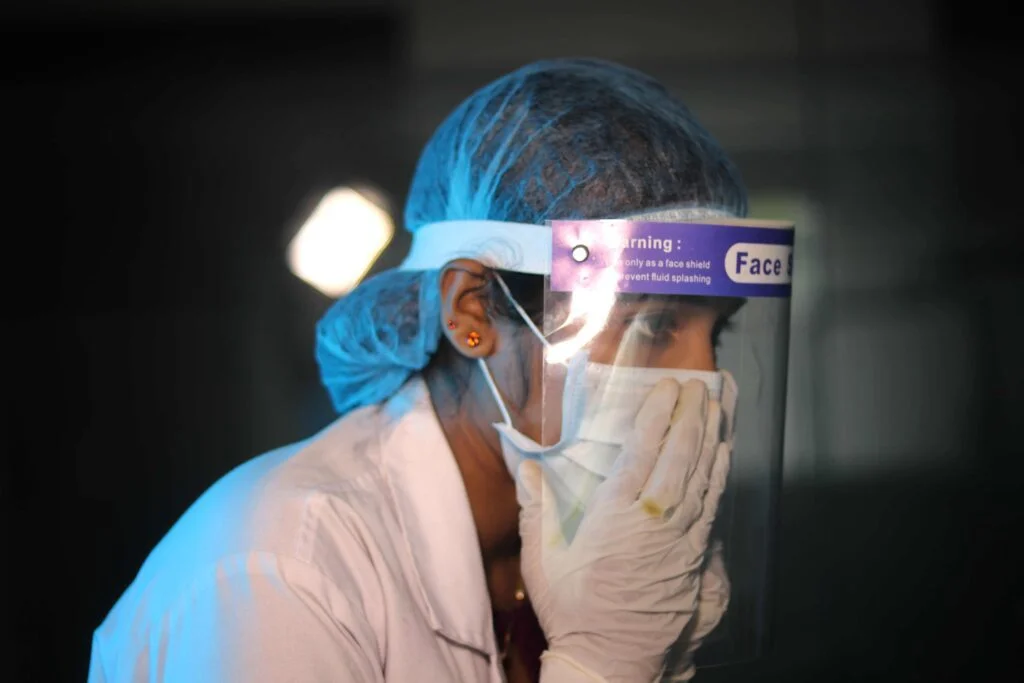 Porcelain Veneers: What Are They?

Porcelain veneers improve the appearance of your mouth by covering the front of your teeth, which others view when you smile. Porcelain veneers, which mask your defects, will make your teeth look whiter, brighter, and straighter. The veneer is a thin sheet of porcelain that is tinted to match the colour of your teeth. A specific cement is used to bind the veneer to the front surface of the tooth. They conceal:
Cracks.
Edges that are uneven.
Discolorations and stains
Gaps between the teeth are a common occurrence.
Chips.
Veneers can even hide teeth that are crooked or rotated.
What Issues Are Addressed by Porcelain Veneers?
When teeth whitening fails to brighten discoloured teeth or malformed teeth create embarrassment, it may be time to consider porcelain veneers to improve your smile. Porcelain veneers provide a quick aesthetic remedy to a variety of dental problems, including:
Spaces and gaps
Teeth that are crooked or unequal
Discrepancies in shape or size
Teeth that are discoloured
Gummy smiles
Teeth that are cracked or chipped
Teeth that have decayed
A beautiful smile also improves other parts of your life. Porcelain veneers not only improve your appearance, but they also improve your general health. A bright smiling face can lead to the following outcomes:
First impressions that are memorable
Increased self-assurance leads to more success.
The satisfaction of appearing and feeling better
A boost in self-esteem that will help you feel more at ease in both social and personal situations.
As soon as possible, whiten your teeth.
According to research, those with straight white teeth are regarded to be more attractive, healthier, wealthier, and educated than those who appear to have poor oral health. White teeth, for example, were deemed to be more desirable by both male and female participants in a 2008 study. Tooth wear and loss were also signs of poor health. According to the study, people consider teeth when choosing a soul mate.
A 2007 study by Procter & Gamble indicated that a bright, white smile has a significant impact on social and professional relationships. The following was discovered by researchers:
After having their teeth whitened, 58% of online survey participants were more likely to be employed.
With whiter teeth, 53% of online survey participants were more likely to obtain a higher pay.
During a simulated job interview, 65% of study participants were perceived as more professional after having their teeth whitened.
Sixty-one percent of survey participants reported feeling more confident after whitening their teeth.
Health and happiness are two of the most appealing attributes a person may have. Your distinctive personality will beautifully come through and warm the people around you with a gorgeous smile that is personalised for your face and mouth shape.
Porcelain Veneering Process
Veneers are normally applied in two appointments. The transformation is immediate once the veneer is applied.
Dr. Anurag has significant expertise in many fields of dentistry, but he specialises in porcelain veneer smile makeovers. He and our Smilebook Dental team are looking forward to giving you the smile you've always desired. When you smile with porcelain veneers, you will never be self-conscious. You will, in fact, always be smiling. Dr. Anurag ensures that his patients are at ease throughout the procedure, and he promotes open conversation to ensure that all questions are addressed. Dr. Anurag wants his patients to feel safe and secure in their care, and he works hard to suit their needs.
As a patient at SmileBook Dental, you can expect the porcelain veneer process to be completed in the following steps.
1. The First Consultation
Dr. Anurag will first meet with you to discuss your concerns and develop the best dental treatment plan for you. You will be able to express your desires, review treatment options, and determine whether porcelain veneers are best for you. Dr. Anurag will recommend the appropriate treatment for your problem if you are not a candidate for porcelain veneers due to specific oral health issues. You will meet with Dr. Anurag's treatment coordinator, Dr.Sneha, after your visit with him to discuss treatment costs and payment options. Dr.Sneha Laura will be your point person from then on. She'll help you plan your therapy and answer any questions you might have. Dr.Sneha is the perfect person to help you with this process because she has had porcelain veneers treatment.
2.The Initial Visit
First visit for porcelain veneers
A small piece of enamel from the tooth surface will be removed at the first appointment to make room for the veneer and prevent overlapping. Veneers are thin, yet they still take up space on the tooth's surface. In most situations, Dr. Anurag will use a 3D digital scanner to capture a digital impression of your teeth in order to fabricate the optimum veneers for your teeth. Traditional impressions, on the other hand, are more appropriate in some instances. The number of teeth receiving porcelain veneer treatment and their existing state are frequently the decisive factors. During your initial visit, Dr. Anurag will be able to establish the course of your treatment.
Temporary veneers will also be constructed and fitted during your initial visit to safeguard teeth while our Master Technician creates the porcelain veneers. Typically, temporary veneers are worn for a couple of weeks. Temporary veneers are similar to final veneers in appearance and feel.
You will be able to eat, drink, and go about your daily activities with your temporary veneers at the end of the first appointment. You'll notice a difference in your smile almost immediately, and you'll have plenty of time to grow used to veneers.
3.Second Visit
It's time to put the finishing touches on your final veneers. The temporary veneers will be taken out first. Following that, very powerful dental cement will be used to bind the porcelain veneers to the tooth surface. Finally, the veneer will be rubbed to give it a natural feel and appearance.
The process for porcelain veneers is rather painless, and patients usually feel well shortly afterward. For a few days, some patients may feel mild irritation or discomfort. Dr. Anurag will go over proper follow-up treatment with you and discuss any concerns you may have.
Porcelain Veneers' Advantages
Patients at Smilebook Dental are ecstatic to get the smile of their dreams, and they are overjoyed when they see the results. People will notice your attractive smile soon after you receive porcelain veneers. Porcelain veneers might transform your life if you've been unhappy with your smile.
Porcelain veneer treatment will provide you with a number of advantages, including:
In just a few visits, you can see a complete change in your smile.
An quick boost to your self-esteem, happiness, and confidence
The ability to treat several oral problems at once
A long-term solution
Veneers are simple to maintain.
Advantages of veneers
Many of our patients have told us about good changes in their lives as a result of their smile makeovers, such as job promotions, meeting significant others, and adopting healthier lifestyles. You'll want to laugh, converse, kiss, and show the world how brilliantly you shine now that you have a fresh, luminous smile.
Porcelain Veneers: How to Care for Them
In general, you should treat your veneers the same way you would your natural teeth, with a few small exceptions. Although porcelain veneers are stain-resistant, you will want to take special care of them to extend their life and keep them looking bright, clean, and beautiful. Veneers can last for decades with proper care.
Follow these guidelines to take care of your porcelain veneers. :
After each meal, brush your teeth with a soft-bristled toothbrush.
Floss on a regular basis.
To clean spots that string floss can't reach, use a Waterpik.
Wear a night guard while sleeping and follow up with your dentist as needed. If you have any concerns, always ask questions about good dental care. Porcelain veneers should, in general, blend in with your dental hygiene routine.
Porcelain Veneers in Hyderabad: How Much Do They Cost?
Veneers in Hyderabad City cost between Rs.10,000 and Rs.40,000 per tooth, depending on the case's intricacy. We are pleased to work with you and assist you in finding a reasonable payment option at Smilebook Dental. We accept a variety of payment methods, including:
All major credit cards are accepted.
Financing from a third party
Payment plan with prepayments
If your treatment exceeds Rs.50,000, don't forget to take advantage of our complimentary teeth whitening (priced at Rs.10000) for you or a loved one.
Ideal Candidates for Porcelain Veneers
Anyone who is unsatisfied with their smile is a good candidate for porcelain veneers. Veneers may be an option if:

ideal candidate for porcelain veneers
You'd like to fix structural problems like fractures, gaps, and misaligned teeth.
Have stains on your teeth caused by medicine that teeth whitening won't remove?
You want whiter teeth, but your diet includes staining foods and beverages such as coffee, tea, wine, berries, and other acidic foods.
You have a gummy smile on your face.
You have a small amount of tooth decay.
You have decent dental health in general.
You are dedicated to maintaining appropriate oral hygiene and care.
Porcelain veneers are not advised for people who have gum disease or damaged teeth. Ceramic crowns may be recommended as an alternative to root canal treatment if you have had or need to have one. If you grind your teeth frequently, you may not be a candidate for veneers. Even if you are not a candidate for porcelain veneers at this time, you may pursue veneers or other cosmetic alternatives after your dental health issues have been resolved. During your free appointment, Dr.Anurag will examine your teeth to identify the best therapy for you.
Where in Hyderabad Can You Find the Best Porcelain Veneers?
When it comes to selecting a dentist for your veneer surgery, you want to choose someone you can trust. It's critical to find a dentist with experience in this type of cosmetic procedure if you want your veneers to compliment your distinctive smile and facial features. Veneer treatment is not available from all dentists.
Creating and placing porcelain veneers is an art, just like any other dental treatment. The majority of patients want their dental veneers to appear natural, as if they already have a flawless smile. Your dentist must be able to build veneers that fit your skin tone, facial shape, and dental issues in order to reach such precision. With so many colours of white to pick from, it requires an aesthetic eye and time to develop the ability to choose the right hue that complements your skin tone, eyes, and hair. It may seem obvious, but the wrong colour of veneer, as well as the size of each veneer, might make you appear like Ross from Friends Series.